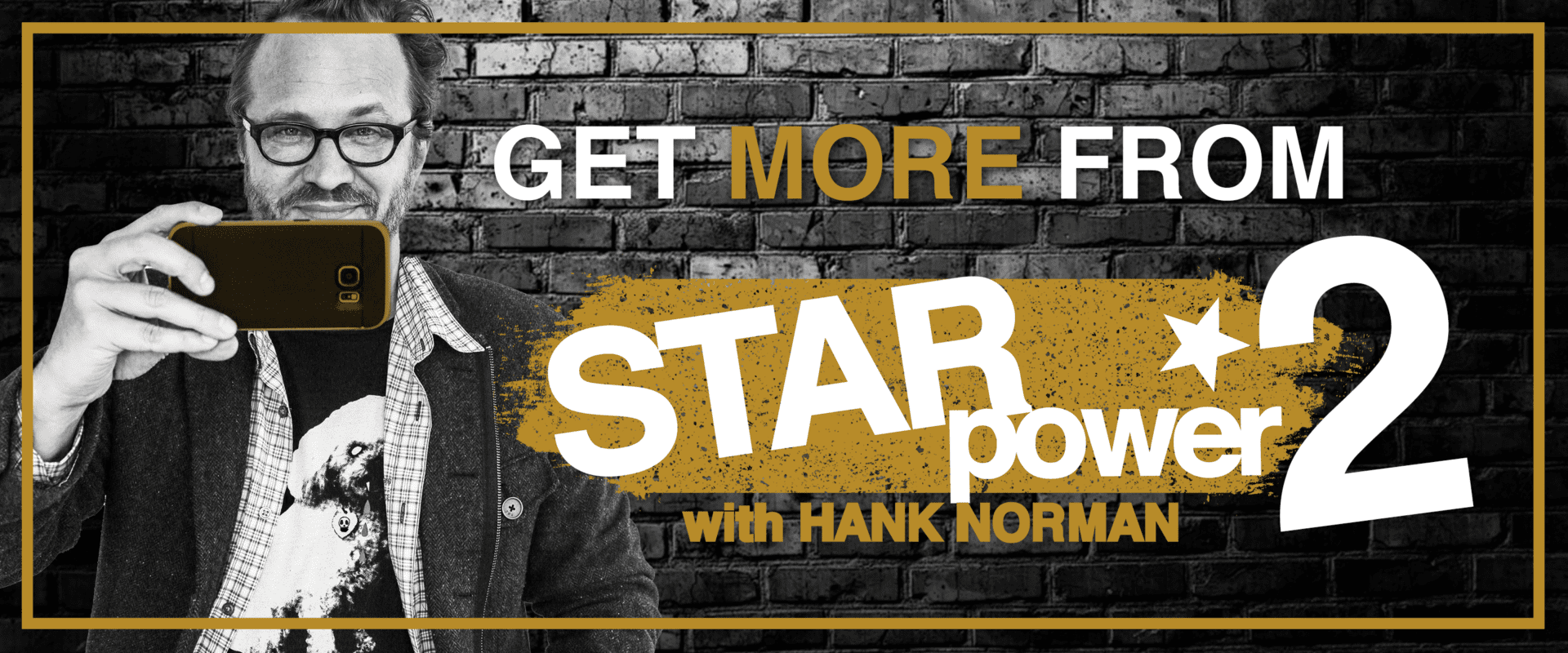 How to Grow, Scale & Monetize Your Expertise
Fame is no longer a title that's given. It's a skill that's yours to earn.
The most effective, least expensive marketing strategy is MASSIVE MEDIA EXPOSURE.  Don't fool yourself - the biggest stars didn't get famous overnight. Most business owners and entrepreneurs who struggle with media visibility are doing the same things wrong.
Tell me if this sounds like you.
You're lost on how to communicate what you do, so potential customers have no idea how much they need you.
You're one of the top experts in your field, but no one believes you because you have zero public credibility.
You're not likable enough to your audience. Super charismatic in person, but you fall flat on camera.
You feel gross trying to sell to your clients with clunky sales methods.
You're dying to hit your stride, but you're just not making enough money.
With Star Power 2, you'll never have to worry about those problems again.
Go From Unknown Expert to Thought Leader & Start Raking in Cash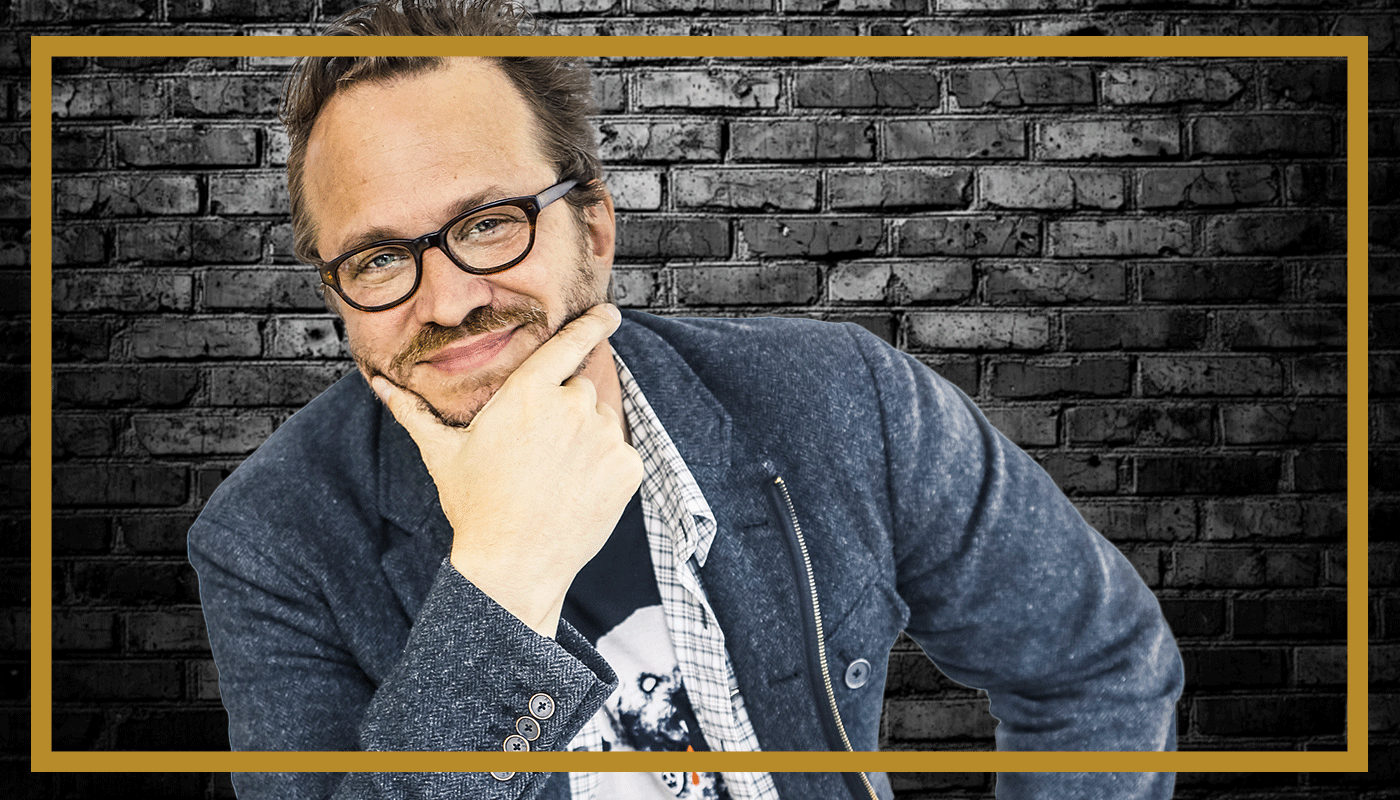 I've worked with some of the most recognizable personalities and brands including Steve Harvey, Meredith Vieira, Grant Cardone, ABC, Disney and Oxygen.
The signature strategy I developed throughout my career in entertainment is the silent force underlying the star power of the household names you know so well.
By the end of this course, you will know the specific, tangible steps to blowing up your brand.
Here's what you'll do with Star Power 2.
Identify your brand

in: Three. Simple. Words.
Boost your following

by the thousands.
Sell

what you DO.
Monetize your influence

by selling truthfully and authentically.
Gain loyal brand evangelists

, not just one-time customers by making real connections.
Imagine, building your fame, scaling it, and blowing up your business in the process. You're going to get objective about your process, fast.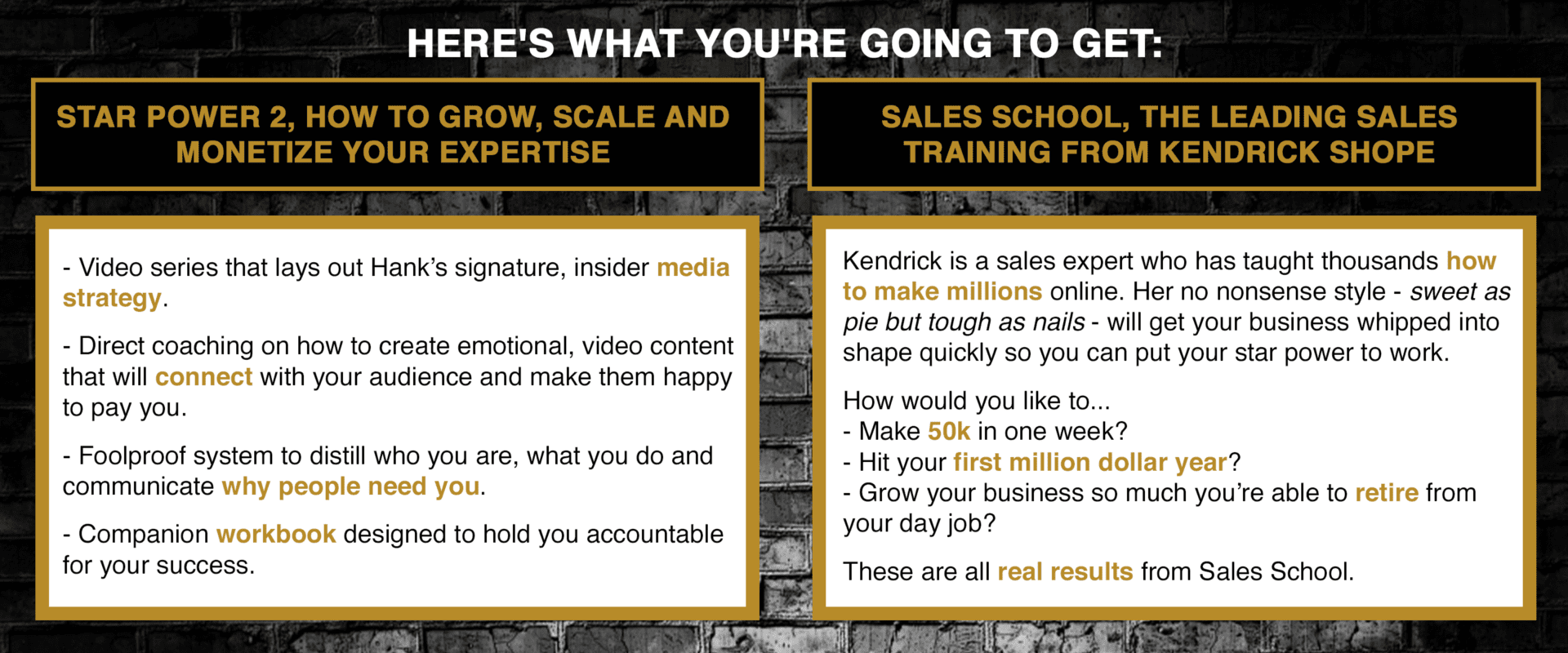 More Clients. More Money. More Impact.
"Hey Hank! Just wanted to say the one month I've been posting videos it has gained me two clients! I sell real estate and it literally cost me nothing to press record - maybe $7.00 for my tripod. My two clients will make me over $15k!! So I just wanted to say, thanks!"
- Spencer Davidson

"Kendrick Shope I wanted to come in and say THANK YOU for everything you've taught me during Sales School — I just did my bookkeeping for October and it was by far my best month yet (50% better than any previous month!) even though I didn't work a full week all month between two vacations and days my boys were off school. I feel like I've finally got all the pieces in place to reach my ideal clients and sell my services without feeling sleazy! If I weren't pregnant I'd be toasting you with a big glass of champagne. MWAH!"
- Autumn Witt Boyd
That's what makes Star Power 2 and Sales School such a sweet deal. Sales School alone is a $2,500 value. When you register right now, you get both Sales School and Star Power 2 for one, low price. When you master the skills in this package deal, the value you'll add thousands of dollars in value to your business.
Fame is your obligation if you want to see exponential growth and unbridled success for your business.
Are you more scared of achieving your star status, or remaining mundane? It's easy to hang back in the shadows or off the grid, but that's not where the money is. That's not how your business succeeds or how you change people's lives.
Star Power 2 + Sales School for: $995
 Don't stay on the sidelines. Take the leap into stardom with Star Power 2.
WANT TO WORK DIRECTLY WITH HANK?!
SIGN UP for the Star Power Bootcamp
This 4 Week Bootcamp teaches you:
How to differentiate your brand in the market place
How to position your brand in the media
How to communicate your brand
How to support your brand with social media
By the end of the 4 weeks you will not only have world class training, brand focus and a media plan - but 2 Market Media will also provide:
A personal brand statement
A personalized mission statement
PURCHASE TODAY AND GET 50% OFF WITH PROMO CODE: POWER2
Star Power 2
w/ BONUS Sales School
$995
4-Week Bootcamp
PLUS, Star Power 2 w/ Sales School
$4,995